In this month's newsletter, you'll find the following:
Thanksgiving has passed, and now Christmas is right around the corner. The year seems to have flown by. Where did 2018 go?
It's been another amazing year here at iTech Solutions! We increased our IBM i services and offerings, added significant staff, many new customers, and are continuing to assist our existing customers. We are actually on track to perform over 400 IBM i OS upgrades this year. There is so much to be thankful for, especially the opportunity to work with you. We won't let you down. If there is anything that we do that doesn't exceed your expectations, please contact me directly. I hope with the holidays approaching, you are able to spend it with your family and friends, and that you have much to be thankful for as well.
As many of our readers over the years know, this will be our last technical newsletter of the year. In December, we publish the much anticipated How iTech Solutions Helped Santa Save Christmas newsletter.  Our team had our MSP call with Santa and the Elves and there are plenty of new stories, so get your stockings hung by the fire and the December issue will be out soon. If you are still on a POWER7 machine, you might want to ask Santa for iTech Solutions to install a new POWER9 before your machine goes out of support.
We are looking forward to another bright year for iTech Solutions, and the greater IBM i community has much to look forward to. IBM has stated that the next release of IBM i, currently called IBM iNext (it will get a number when announced) will ship in 2019, as is evidence with the IBM i Roadmap with support of IBM i releases going out until 2028.
In this month's newsletter, you'll find the following:
Please note that for all 7.1 customers that are on the Quarterly or Semi-annual iTech Solutions PTF maintenance plan, we will be installing the latest PTFs as you are most likely now on Technology Refresh 11. For the 7.2 customers, we will be installing 7.2 Technology Refresh 9, and 7.3 will be Technology Refresh 5.
[eBook] 9 Things You Need to Know About POWER9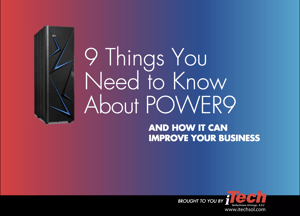 The POWER9 is the latest and greatest system IBM has to offer. But what can it do for your business?
This eBook will cover:
How the POWER9 infrastructure is built for the digital age
How POWER9 performance compares to previous models
About the migration process from POWER7 or POWER8
The overall benefits of POWER9 and how it can make a difference for your business
5 Ways To Protect Your Sensitive Data on IBM i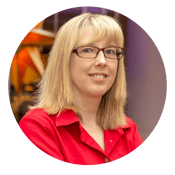 Regulations (FISMA, HIPPA, SOX, and more) are forcing companies to evaluate how they protect their sensitive data. Industries such as finance, insurance, and healthcare have the most pressure to comply with these regulations which are geared towards protecting consumers private information.  The issue is that companies may not understand how to properly secure their data to protect their consumers.
Any good security plan takes a layered approach to protect data.  You have to consider where the data resides and how someone could gain access to it.  Then you have to put controls in place to ensure that you put as many roadblocks in place as possible to prevent unauthorized access.
There are many approaches you can take to ensure you are complying with regulations and protecting your companies information.
Below are five ways to protect your sensitive data. [CONTINUE READING]
IBM i Managed Services: System Health
As I wrap up my Managed Services series for 2018 and prepare for 2019, I want to end by talking about system health. A common misperception about MSP is that all the hardware being used by our customers is
hosted. In fact, the vast majority of the systems under our care are the existing hardware in the shops we support.
As we all know, the IBM i runs well and can be trusted to do so with little intervention. Consequently, there are many factors that aren't analyzed regularly that can have drastic impacts on the functioning of the machine. We provide this information to our customers via two services:
Standalone health checks
System status overviews
The Value of Keeping Your IBM i Current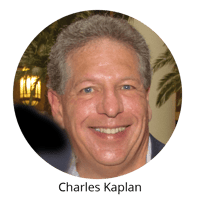 IBM i on IBM Power Servers is the best server platform in the universe. It is reliable, stable and provides all the tools needed to effectively operate and manage your mission-critical applications. Most of us on the platform fully agree. While this is an amazing accomplishment, it also has its downside. IBM i users have become complacent about the platform because they rarely have to worry about the hardware and operating system.  It just works. They even forget it exists.
But even the best platform needs to stay current. Why?
How to Fix WRKPRB: "Software problem data for QYCDCUSG has been logged."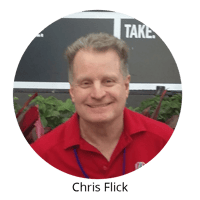 Have you ever seen on your system in WRKPRB: "Software problem data for QYCDCUSG has been logged."?
Normally this indicates an expired server certificate or an expired Certificate Authority certificate.
You should take the following steps to correct the problem:
1. Go into DCM (Digital Certificate Manager), in browser go to: your system IP address:2004
End of Life for IBM POWER6 and POWER7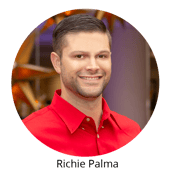 If you run IBM i on IBM Power Systems, this will hopefully come as a friendly reminder. IBM will be discontinuing hardware support on POWER6 machines at end of Q1 2019 and for POWER7 at end of Q3 2019.  You can find details on servers affected by the service discontinuation in the below announcement.
Services withdrawal: Declaration of a plan to discontinue lease, rental, and maintenance services for selected machines IBM United States Withdrawal Announcement 917-163 – September 19, 2017
What This Means
For the folks still running on older P6 and P7 machines, it is important that you make a transition to newer POWER8 and POWER9 systems or find other ways to adapt. Companies who plan on taking a reactive stance on this will be exposed to greater security and reliability risks after support is removed on these machines.  If you are sitting on old hardware you must find new ways to ensure these systems continue running reliably.
Upcoming Events
COMMON Virtual Conference [FREE]
December 4th & 5th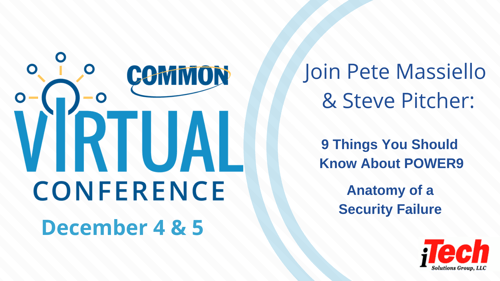 Join Pete Massiello for his virtual session, 9 Things You Need To Know About POWER9. And Steve Pitcher for his virtual session, Anatomy of a Security Failure. 
[REGISTER]

WMCPA User Group Meeting
December 13th
Milwaukee, WI
Richie Palma will be speaking on:
Understanding your licensing and what you are entitled to on POWER Systems
IBM i a Corner Office Perspective: Articulating the business value of IBM i
Save the date: Virtual POWER9 Panel
January 9th, 1PM ET
Join the iTech Solutions team for a virtual panel answering the toughest questions regarding IBM POWER9. 
Registration coming soon.
Release levels and PTFs
People are always asking me how often they should be performing PTF maintenance, and when is the right time to upgrade their operating system. I updated this article from last month with the current levels of PTFs. Let's look at PTFs. First, PTFs are Program Temporary Fixes that are created by IBM to fix a problem that has occurred or to possibly prevent a problem from occurring. In addition, some times PTFs add new functionality, security, or improve performance. Therefore, I am always dumbfounded as to why customers do not perform PTF maintenance on their machine at least quarterly.
If IBM has come out with a fix for your disk drives, why do you want to wait for your disk drive to fail with that problem, only to be told that there is a fix for that problem, and if you had applied the PTF beforehand, you would have averted the problem. Therefore, I think a quarterly PTF maintenance strategy is a smart move. Many of our customers are on our quarterly PTF maintenance program, and that provides them with the peace of mind of knowing their system is up to date on PTFs. Below is a table of the major group PTFs for the last few releases. This is what we are installing for our customers on iTech Solutions Quarterly Maintenance program.
| | 7.3 | 7.2 | 7.1 | 6.1 | V5R4 |
| --- | --- | --- | --- | --- | --- |
| Cumul Pack | 18242 | 18249 | 17192 | 15063 | 12094 |
| Tech. Refresh |  5 | 9 | 11 | | |
| Grp Hipers | 71 | 134 | 233 | 210 | 204 |
| DB Group | 12 | 24 | 43 | 33 | 33 |
| Java Group | 10 | 18 | 33 | 41 | 34 |
The Scary Truth About IBM i Security Pushbacks

If you're looking to make improvements to your IBM i security, then you need to be able to get your whole team on the same page, which sometimes can mean common oppositions.

How to Evaluate Your Managed Service Needs

Managed Services can be tailored to fit the needs of your business, which means you need to evaluate where a third party provider can provide you with the most benefits. Identifying where you have vulnerabilities or gaps with your system administration is the easiest place to start.
6 Steps to Execute an IBM i Security Project

Many companies want to improve the state of their IBM i security, but they often don't know where to start. They also might not understand the long-term impact of recommended changes.

Moving IBM i to POWER9

It's always exciting when IBM announces new hardware and today is no exception! We have been hearing about the new POWER9 Chip for several months.
Using TRCINT to find detailed encrypted connection information

Here you'll find a detailed method to determining the strength of each encrypted connection to your IBM ipartition. Commands used: TRCINT SET(*ON) TRCTBL('All-encrypted') TRCTYPE(*SCKSSL) SLTTRCPNT((17000 17004)). TRCINT SET(*OFF) TRCTBL('All-encrypted'…[

Read More

]

Set up a LIC macro for summarizing encrypted information

If you're currently using any type of network encryption and want to understand the protocols in use, you can easily do this with a LIC macro. This is quite handy especially if you're looking at turning off a less secure protocol like TLS 1.0….[

Read More

]
Using Run SQL Scripts to get a high level user profile security summary

Need a way to get a high level understanding of your user profile security? Look no further. This simple script will allow you to summarize key aspects of your user profile security, from special authorities to group profiles with passwords. [

Read More

]

Determining Who Responded to QSYSOPR Messages

Ever want to see who responded to a message on the QSYSOPR message queue? There are two easy ways to do it.